Estimate templates


Download our free cost estimate templates for Word & Excel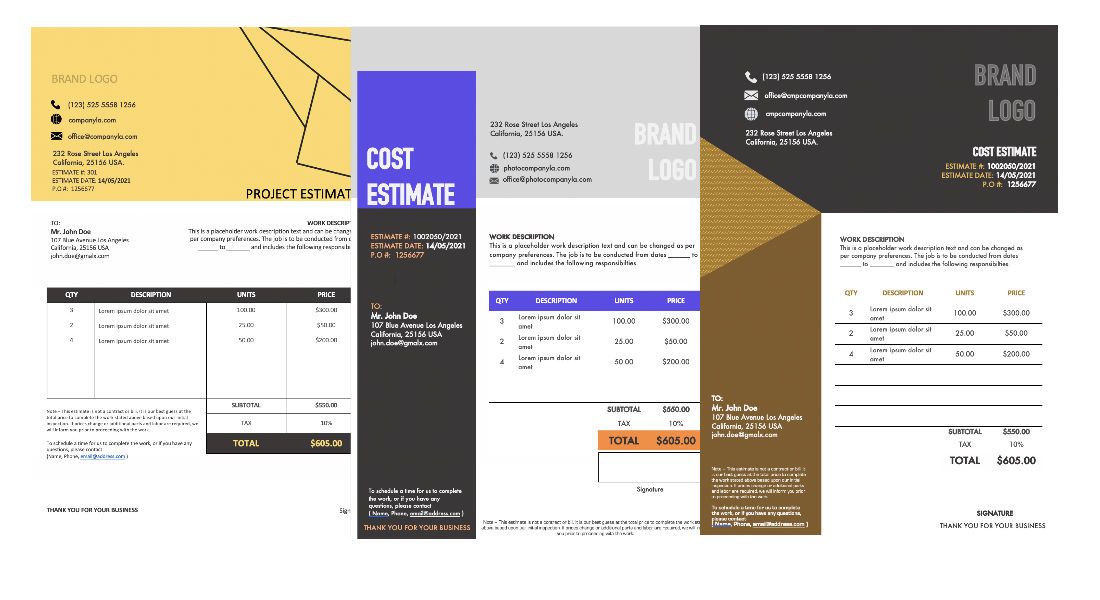 Choose your free cost estimate template
All cost estimate templates come in Word and Excel format.
Choose your free cost estimate template
All cost estimate templates come in Word and Excel format.
What is the purpose of sending estimates?
A good estimate lays down a budget plan and offers a detailed look into the project's costs. It lets you assess all the expenses that you can expect during any given process.
Whether you are in construction, manufacturing, or even security, use one of our work estimate templates to figure out exactly what your next project will set you back. This includes breaking down individual expenses such as supplies, tools, labor, and other essential costs.
These templates serve as a cost-effective solution for creating professional-looking estimates that help close a sale with the client. They reinforce a consistent tone that establishes credibility through a well-organized documented process.
That's why you need to choose a project estimate template that follows the right format and includes all the important information.
It specifies the estimated project start and end date, offers an overview of the nature of work, and gives you a detailed plan of the project's expenses, including direct costs, indirect costs, and even the tax rate.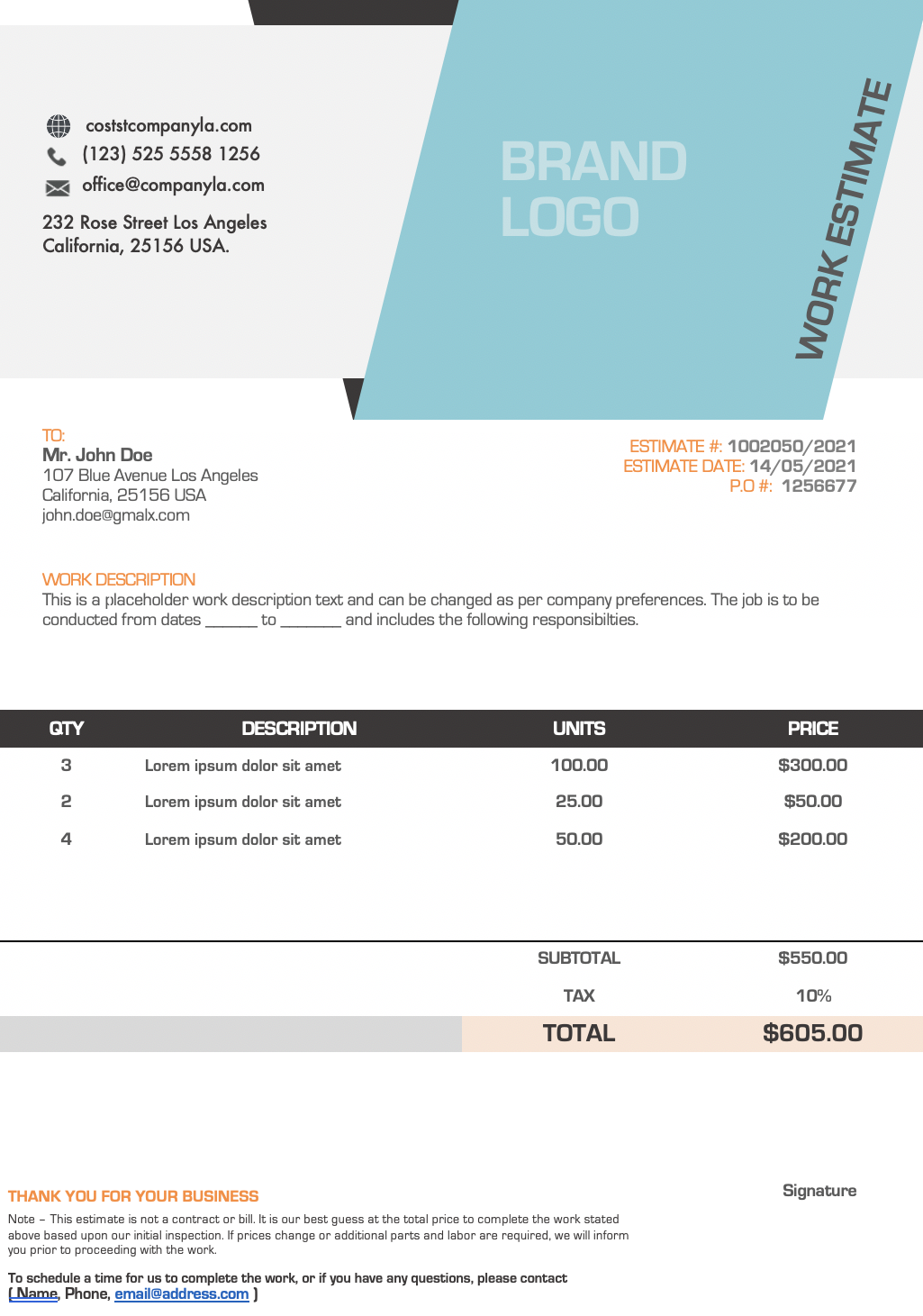 What information should you include in a cost estimate?
Business info

Standard business information such as your company's details includes its logo, name, and important contact details such as phone number, email, and postal address.

Customer information

This includes their name, address, contact number, and email address.You can easily add your logo, fonts, and other branded elements like headers and footers, and save it as a template in Word so you can access it later.

Issue date

The date on which you provide the estimate to the customer and the due date by which the estimate is supposed to be accepted or rejected.

Project description

Outlines the materials or equipment required for the project, the number of hours needed to complete the task, and any additional licensing or fee to prevent potential misunderstandings.

Total cost estimate

Includes the line items costs and taxes, if applicable. You also need to specify the currency that you are dealing in.

T & C

Your company's terms and conditions and personalized notes for the client that you might want to add.
Get a competitive edge with vcita estimate and invoice software
From estimate to the final invoice
You no longer need to keep track of project costs manually as vcita's estimate and invoice software allows you to manage your entire billing process from one app. This not only saves your precious time that you can spend on processes that contribute to business growth.

vcita has made it possible to remove human error from the equation with an estimate and invoice software that calculates labor costs, the number of materials used, and the overall expenditures accurately. You can even create customized estimates and invoices from anywhere, using your desktop or mobile, and speed up the payment process.

All you need to do is add your company name and logo, select the currency you will be dealing in, add your project costs in hours or and per items and create a professional cost estimate.

vcita also offers a unified platform where you can view your pending and paid invoices from an easy to use dashboard and send real-time updates to the client for undue payments.

For ease of convenience, you can even send the invoices via SMS and even emails to skip the collection calls while ensuring that the client pays on time.

Investing in an estimate and invoice software also helps you compare similar projects by assessing their estimates and costs to increase efficiency and accuracy during the entire cost calculation process.
Ready to create and send estimates with vcita?

Vcita's billing and invoice software allows you to create professional-looking estimates integrated with your company information and logo within minutes.

When your estimate gets approved, and it's time to collect the payments, the software automatically converts the estimate into an invoice with a single click.

Moreover, invoicing is just one amazing feature that this software offers. It also supports your business's processes with features like online payment scheduling, client cards, and the ability to save invoices or payments to the respective client cards.

To view overdue invoices, you can effortlessly search for them through filtering the data by client name, payment status, or other information.

Not convinced yet? Let's take your on a personalized product tour, where we can show you how vcita can improve your payment collection flow.